1980-1983


1984-1987


1988-1989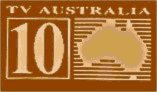 1989-1990

1991-
Ten Network Australia
In 1965 the 0-10 Network was formed between TEN10, ATV0, TVQ0 and SAS10 but with each station maintaining it's own logo.
In 1972 Rupert Murdoch bought 46% of TEN10 Sydney, and in 1979 he gained control of ATV10 Melbourne.
On the 20 January 1980 the network changed it's name to Network Ten when ATV0 changed to ATV10. TEN10 and ATV10 changed their logos to the same one. TVQ0 and SAS10 still maintained original logos.
In 1984 SAS10 picked up the new logo of Network Ten, with TVQ0 still with a separate logo.
In January 1987, Rupert Murdock sold the Ten Network to Frank Lowy for $842 million.
On the 27 December 1987, SAS10 Adelaide joined the Seven Network and became SAS7, and the former Seven Network in Adelaide ADS7 joined the Ten Network and became ADS10.
Ten won the licence for NEW10 Perth, officially opening on the 20 May 1988.
On the 10 September 1988, TVQ0 changed to TVQ10 and picked up the X logo.
Because of very low ratings, on 23 July 1989 at 7.30pm Ten totally revamped its stations, producing a heap of new shows and giving themselves a new look, 10 TV Australia. Unfortunatly for Ten, this was very unsuccessful, and by the end of the year most of the new shows had been cancelled and the overall ratings were still low.
In September 1989, the Ten Network was sold to Steve Cosser for $22 million. In September 1990, Westpac Bank put Ten into receivership.
In 1991 Ten changed to a new logo, and has used it ever since.
In December 1992, Canadian company, CanWest, bought 57.5% of the Ten Network from it's receivers for $245 million.
On the 1 January 2001 Ten began digital broadcasts from all their stations.